Carolina Artisan Craft Market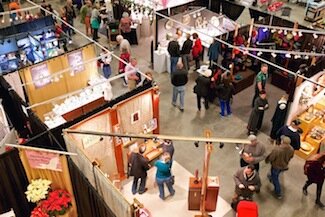 Our 2017 Carolina Artisan Craft Market at the Raleigh Convention Center is being planned!  You'll find unique works of art and fine craft from more than 100 contemporary fine craft artists who will travelled from across North Carolina and the U.S. to the heart of downtown Raleigh.
Our handcrafted artisan shopping experience also includes dynamic artist demonstrations and live music.  Look for updates to the demo and music schedule later this summer.
Mark your calendars for our 2017 Carolina Artisan Craft Market to be held in the Raleigh Convention Center, Exhibit Hall C the second weekend in November:
FRI, Nov 10, 5p-9p
SAT, Nov 11, 10a-6p
SUN, Nov 12, 11a-5p
SHOP FOR UNIQUE ARTISAN CRAFTS:
Ceramics
Glass
Furniture
Jewelry
Leather
Metal
Mixed Media
Printmaking
Wearable & Decorative Fibers
Basketry
Wood
ABOUT THE MARKET:
2017 marks the 48th year of the Carolina Designer Craftsmen Guild's annual November event.  All ticket sales benefit this local nonprofit and host!  The Carolina Artisan Craft Market is a trusted resource for art collectors and first-time buyers looking for the finest contemporary and traditional craft being made in America.
Fine craft artists present a striking variety of glass, ceramics, wood, both wearable and decorative fibers, metal, leather, basketry, printmaking and mixed media, as well as one-of-a-kind handmade furniture and both precious and semi-precious jewelry.
A rigorous two-step jury selection process attracts emerging and career craft artists who are presenting craft at the highest level – reflecting a mastery of technique and originality of design. In addition to new and emerging provisional member artists, we welcome back our juried Exhibiting Artist Members as well.
Exhibiting Artists at the 2016 Carolina Artisan Craft Market
The images below represent the work of Exhibiting Artists who participated in the 2016 Carolina Artisan Craft Market in downtown Raleigh, NC.  Click or tap on the image to learn more about your favorite artist.  Artists participating in the 2017 market will be added this summer.
2017 Dates: FRI NOV 10, 5p – 9p, SAT NOV 11, 10a – 6p
&

SUN NOV 12, 11a – 5p
Discounted General Admission Tickets On Sale Beginning Sept. 1, 2017
Save $3 per Day Ticket with Online Purchase 
Friday, Nov 10, 5-9 pm
Saturday, Nov 11, 10am-6pm
Sunday, Nov 12, 11am-5pm
General admission is $7 online or $10 at the door
Senior Citizens, Veterans, Active Duty Military and College Students, $7 at the door.
Weekend Pass $13
Children under 15, Free
During the Market, general admission tickets may be purchased at the Lobby Box Office in front of Exhibit Hall C, Raleigh Convention Center, facing W. Cabarrus Street.
Complimentary tickets are distributed upon request. Please submit a request if the admission cost is prohibitive.
Preview Party: FRI NOV 10
Friends of the Guild and sponsors enjoy a Preview Party and first look at the show.  Meet the artists, get an exclusive first look at one-of-a-kind items while shopping for distinctive handmade fine craft.  Live music, tasty bites and libations along with a special VIP raffle for this opening night party!
Join Friends of the Guild to contribute to this local nonprofit organization based in Raleigh and enjoy a special Preview Party along with other benefits throughout the weekend of the Carolina Artisan Craft Market!
Opening Night, Public: FRI NOV 10, 5-9p
Doors open to the public at 5pm for Opening Night. Enjoy live music, cash bar and raffle!  Meet the artists and get a head start on finding unique gifts for yourself and those on your list.