VIP Reception
You Can Be a VIP and Party Arty!
Become a Friend of the Guild and help us celebrate the opening of the 49th Annual Carolina Artisan Craft Market on Friday, November 2. Friends will be treated to an Opening Night VIP Reception from 4-7pm. Mingle with artists, shop for one-of-a-kind gifts, and win fine craft! Enjoy live music as you walk the show floor. After working up an appetite, get away to our VIP Lounge, where you can rejuvenate yourself at the small plates buffet and dessert bar. All in a peaceful atmosphere just off the show floor.
Friends of the Guild get access to an exclusive raffle of one-of-a-kind works donated by our artists for our annual raffle fundraiser. This year's participating artists are Adrina Richard (Clay), Judy Robkin (Clay), Mia Tyson (Fiber), Carol Clay & Mac Chambers (Fiber), John Wayne Jackson (Mixed Media), Emily Triplett (Jewelry), Lynda Bahr (Jewelry), Craig Kassan (Wood), Derek Hennigar (Wood), Karen Maugans (Photography), John Furches (Printmaking), John Gunther (Fiber/Metal), and Josh Solomon (Glass).
Mimosas anyone? Let us treat you to this Sunday brunch favorite during our Sip & Shop on the last day of the Market while you wrap up your holiday gift shopping. Friends of the Guild members receive an extra voucher this year, which can be redeemed for a Mimosa or any bar beverage between 11 AM and 2 PM on Sunday.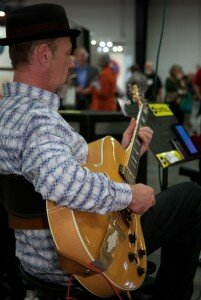 Make plans today to meet and mingle with more than 100 artists of contemporary fine craft. Shop for distinctive, hand made, one-of-a-kind items for your collection or for gifts. And, perhaps, win a wonderful raffle prize!
We look forward to seeing you on Friday, November 2, 2018. The VIP Lounge and Reception will be open to Friends from 4-7 pm!