Carolina Artisan Craft Market

The premier three-day market and show of fine craft includes more than 120 contemporary artists from across North Carolina and the U.S., artist demonstrations, live music and a public art installation.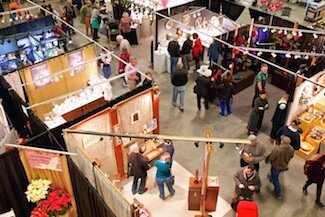 This festive event, held November 6 – 8, 2015 in downtown Raleigh, NC, is a trusted resource for collectors and the community at-large.
A rigorous two-step jury selection process draws emerging and career craft artists who are presenting craft at the highest level – reflecting a mastery of technique and originality of design.
Fine craft artists present a striking variety of glass, ceramics, wood, both wearable and decorative fibers, metal, leather, printmaking, photography and mixed media, as well as one-of-a-kind handmade furniture and both precious and semi-precious jewelry. Our juried Exhibiting Artist Members participating in the event are included below. Additional new and emerging provisional artists who have been juried into the event will be added to this site in the coming weeks.
A special exhibition of work by the Don H. Johnson Pursuit of Passion Awardee Phillip Nolley will be on display throughout the weekend.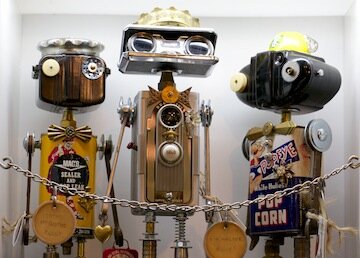 Photo: Amy Flynn mixed media sculptures; image: David Poulos CamerArt
Exhibiting Artists Participating in the
Carolina Artisan Craft Market!
Click or tap on the image to learn more about your favorite artist. New artists juried into this year's show will be added to the website in July! Please note, not all exhibiting artist members participate each year. View all CDCG Exhibiting Artist Members.
November 6 – 8, 2015
Opening Night
FRI, Nov 6, 4 – 5 pm
Friends of the Guild and sponsors get a first look at the show on opening night! Meet the artists, get an exclusive first look at one-of-a-kind items while shopping for distinctive handmade fine craft.
FRI, Nov 6, 5 – 10 pm
Doors open to the public at 5pm for Opening Night. Enjoy live music, cash bar and raffle! Meet the artists and get a head start on finding unique gifts for those on your list.
Weekend Hours
SAT, NOV 7,
10 am – 6 pm
SUN, NOV 8,
11 am – 5 pm
GENERAL ADMISSION TICKETS
Friday, Nov 6, 5 – 10 pm; Saturday, Nov 7, 10 am – 6 pm; Sunday, Nov 8, 11 am – 5 pm
One Day Ticket $7
Weekend Pass $10
Children under 15, Free
During the run of show, tickets may be purchased at the Lobby Box Office in front of Exhibit Hall B in the Raleigh Convention Center (faces W. Cabarrus Street).
Join Friends of the Guild to contribute to this local non profit organization based in Raleigh and receive special benefits during Opening Night and throughout the weekend!