Live Music
Live music at our Annual Fine Designer Crafts Show in Raleigh, North Carolina has become a cherished addition to this event. Special thanks to the artists below who shared their time and talents with us at last year's show. Stay tuned for the announcement of the musicians who will play Nov. 6 – 8, 2015 at our 46th Annual Show!
Friday
Jazz music by the Thomas Taylor Trio
With Baron Tymas on guitar, Damon Brown on bass and Thomas Taylor on drums, The Thomas Taylor Trio began their adventures as music faculty at North Carolina Central University more than 10 years ago. All three continue to teach at the University and explore jazz and popular music with performances across the Triangle.
Saturday
Bluegrass music by Jim Watson,
Jim Watson was a founding member of the Red Clay Ramblers in 1972. He will be joined by bluegrass legend LeRoy Savage, an original member of the New Deal String Band, and they will be playing bluegrass and country music in the old-time way.
Spanish guitar by Ed Stephenson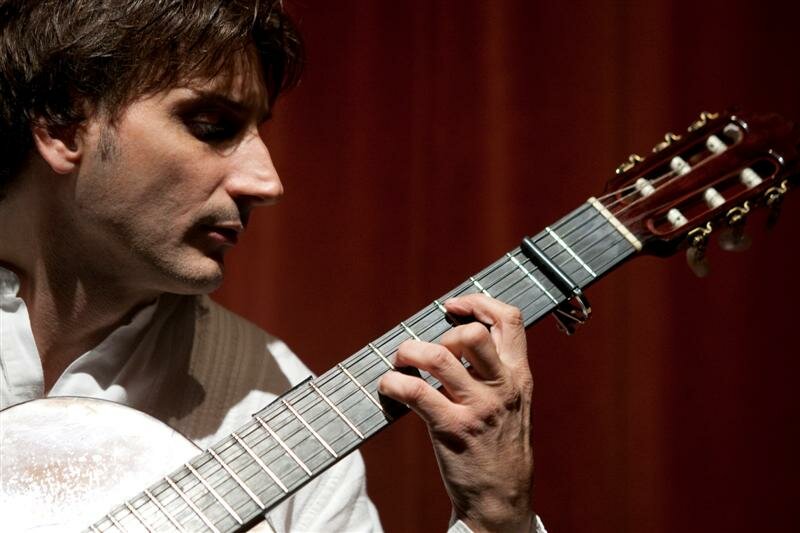 Raleigh-based guitarist Ed Stephenson's extensive guitar repertoire, ranging from classical to contemporary, extends throughout the Spanish and Nuevo Flamenco genres. In addition to performing throughout North America as a soloist and with his ensemble, the Paco Band, Stephenson has performed with The North Carolina Symphony, The North Carolina Theater, The North Carolina Bach Festival and The North Carolina Guitar quartet.
Sunday
Acoustic guitar by Alex Christie

Born and raised in Asheboro, NC, Alex picked up the guitar at a young age and plays on her acoustic guitar with a laid-back vibe and beach influenced lyrics. Spending the last few years perfecting her craft as a songwriter and touring performer, Alex recently signed with the independent music company DCL Studios and is working on her debut EP.
Classical guitar by Billy Stewart
Born in North Carolina, Billy Stewart was a self-taught guitarist by the age of eight. After receiving a Bachelor of Music in Education from UNC-CH, Billy set-up his studio in Chapel Hill. His guitar compositions have been published and used in film documentaries. In 2012 he released Whispers, a CD of his solo guitar works
Schedule of Live Music
Stay tuned for the announcement of the musicians who will play Nov. 6 – 8, 2015 at our 46th Annual Fine Designer Crafts Show in downtown Raleigh at the Raleigh Convention Center!
Friday, November 6, 2015
Saturday, November 7, 2015
Sunday, November 8, 2015