Have a question or comment?
Contact us!
As a small, nimble, nonprofit organization the Carolina Designer Craftsmen Guild does not maintain an office.  Contact us with mailed inquires to:  Carolina Designer Craftsmen Guild, PO Box 2384, Raleigh, NC 27602-2384.  If you'd like to contact us by phone please call 919-460-1551 and leave a message.  Or, if you'd like to send us an email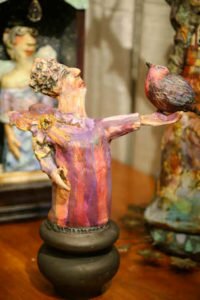 please submit the contact form above.
We appreciate your feedback, ideas, comments and welcome your questions.  A staff member or volunteer will respond to your inquiry.  Please like the Carolina Designer Craftsmen Facebook page and offer a review of our annual event.
Thank you for you interest and participation.  For the latest news and updates, like our page on Facebook and follow us on Instagram or Twitter by clicking on the links below!
Please note, the application period to apply for consideration of CDCG Exhibiting Artist Membership and our 2017 Carolina Artisan Craft Market has closed.  Review the prospectus and application by clicking here to access our ZAPPlication.  Applications for 2018 will open by the first of February.
Photo: Chrissie Callejas ceramic sculpture